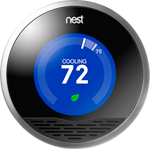 Thermostats are used to turn on and control heating or cooling systems which is the most expensive energy drain in a home. The Nest Learning Thermostat stands out for its ability to save homeowners money by learning a schedule and preferences. After just one week, the Nest will program itself based on the preferences learned over the week; and if the preferences change, the Nest will adapt to the new schedule as well. The technology uses activity, humidity and temperature sensors to monitor the indoor climate and adjust for maximum efficiency. If for any reason change is needed, the homeowner can adjust the Nest Thermostat from home or the road.
The Nest offers many state of the art features including:

Auto Schedule
Nest thermostat creates a personalized schedule based on the temperature changes you have made and continually adapts to your changing life.
The Leaf
Want to know about energy savings when you change your settings? The Nest Leaf appears when you turn Nest to a temperature that is energy efficient.
Airwave
Airwave automatically turns off the AC a few minutes early, but keeps the fan running. The air stays cool while your AC runs up to 30% less.
Energy History
You can make better decisions about your energy use if you know how and why it changes. Nest shows you when your system was on and what adjustments affected your energy use most.
Auto-Away
After you have left the house, Nest will sense you have gone and automatically adjusts the temperature to avoid heating or cooling an empty home.
Please click here, for more information on Nest Learning Thermostat.